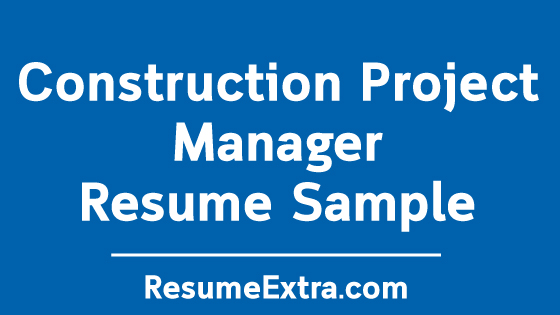 Construction Project Manager Resume Sample and Required Skills
Construction Project Manager Resume Sample – Construction project manager sets up the estimates, the budgets and the construction timetable for the client and develops the construction strategy. He selects the subcontractors and workers, and provides required explanations for the builders and other professionals associated with the project, coordinating and collaborating with the architects, engineers and specialists. The construction manager also ensures the construction project complies with all building codes and any other legal or regulatory requirements. When delays or problems occur as they always do the construction manager is the project's first respondent, ready to make the changes required to move the project past the issue.
Some Responsibilities That Construction Managers Should Know Before Writing Their Resume
The construction manager will have many responsibilities and these include the following:
Planning– From the outset, it is the responsibility of the Construction PM to plan the build process, this means producing a critical path and understanding the timing of each stage. Following each phase of the project is essential to ensuring that the project is completed on time.
Resource Allocation– Any building project will need resources from bricks and mortar to tools and basic amenities. It is the responsibility of the Project Manager to have an understanding of what these are and ensure they are available.
Staff Management– The Project Manager will be responsible for recruiting a team and allocating tasks to relevant managers. It may mean identifying suitable contractors who can complete the work. The important thing for the Construction Project Manager is understanding at which stage of the process each trade will need to be recruited.
Setting Benchmarks– An integral aspect of the ongoing monitoring of a project is setting benchmarks to monitor progress, this allows the project manager to identify whether or not the project is on target to finish on time and within budget.
Budget Management– The Project Manager is responsible for the financial planning and monitoring of the project. To avoid going over budget a PM should consider continually forecasting, keeping the team informed of forecasts and changes and managing the scope meticulously, so knowing the costs for unplanned construction work or resources and keeping that set-aside.
---
Construction Project Manager Resume Sample
MARY JOHN
Street, City, State, Zip | Phone Email Address
OBJECTIVE
Construction Project Manager with strong field and cost management experience and the ability to manage subcontractors and equipment with the assurance of a safe and quality-oriented job site seeking new position.
CORE COMPETENCIES
Thorough knowledge of legal issues and safety standards.
Effective time management and logical decision-making ability.
Excellent communication skills.
Capacity to motivate, lead and boost morale of team.
EXPERIENCE
BM Energy Irvine, CA (2016 – Present)
Construction Project Manager
Key Project Lead Activities:
Oversee construction of special projects from inception to planning to completion.
Coordinate design and planning to ensure design standards are met and maintained.
Conduct and perform site surveys during various stages of the construction project.
Analyze vendor proposals and select the appropriate one for each project.
Review construction technical documentation for accuracy, feasibility, quality and conformance to industry standards.
Supervise and guide other staff throughout the construction process.
Other Management Performance:
Divide massive construction project into small and easy steps, enabling engineers to perform their functions as per their area of expertise.
Arrange work-force as per requirement of project and dispatched schedule to worksite.
Act as a link between clients and workforce, review work on clients' behalf and issue reports to clients.
Ensure all construction processes are completed as per safety and quality guidelines.
Contact contractors regularly for project development updates.
EDUCATION & CERTIFICATIONS
UNIVERSITY OF VIRGINIA (Charlottesville, VA) — 2010
BS in Civil Engineering
---
***This is only the construction project manager resume sample that we present to you to build it by yourself. Good luck and get the right job soon.
Want more samples?