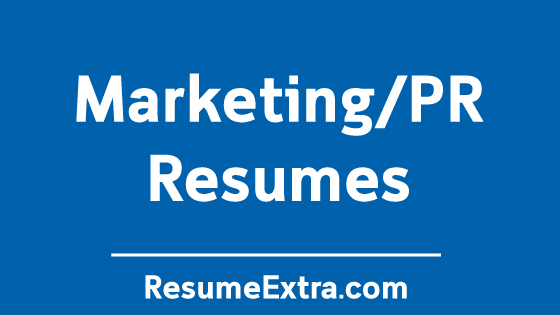 Resume Examples for Marketing / PR Industry
Thinking to join in a new job? What is the first task to getting a new job? Allying for the job, right? Before you are participating in any job, you need to go under a procedure where the employer will select if you are the right candidate or not. To present yourself to them, you need to drop your resume. This is the best thing that you can tell someone about your qualifications and skills without attending in that place. But it needs to be appropriate. Suppose you are thinking to start your job as a PR officer, then you need different skills, and you can include them in your resume.
What is the Marketing or PR Officer Job?
The person who works in this position needs to be a multitasker. He needs to maintain several things accurately to increase the brand awareness as well as the number of sales. As a PR (Public Relations) officer, you will work on tasks like planning, developing, and implementing the strategies of the company. You also need to communicate with your colleagues to keep the marketing strategies smooth. Also, it is necessary to make the report based on different projects. You will be responsible for some typical works like media coverage, promotional videos, photographs, etc. The success of the company hugely depends on the PR or marketing officer. So, you need to be appropriate in your works.
What are the Requirements for Marketing/PR Officer?
As I have mentioned above, the success of company's strategy mainly depends on the workflow of a PR/Marketing officer. There are different skills you will be required for this post. A graduation degree in marketing, communication or journalism is enough for the educational qualification. Besides these, you also need the ability to make a presentation, reporting based on work performance, excellent communication skills, etc. if you are thinking of a higher position in this field, then you need some proof of previous works. The employer may also ask for the client list to know where you have worked.
How Much Money Can You Make as a PR/Marketing Officer?
For any PR/Marketing officer, it is not so difficult to earn a lot of money. In an average, a PR officer makes up to $50,000 per year. But you need to be expert in your works. People who are working in the beginner level also make a handsome salary. If you can perform better, it is easy to increase your wedge rapidly.
What to Include in the CV?
The post Marketing/PR is a major part of any company. So, you need to be professional when creating a resume. Include your skills rather than your educational qualifications. If you have a previous work record, don't forget to mention it. Even if you have worked as an intern somewhere, remark it in your CV. Your resume is all to get the call for an interview to prove yourself.
How to Make a Professional Resume?
Well, this is a critical work, and most of the people make a lot of mistake at this point. Unlike other as usual resumes, it needs to be more creative and intellectual. However, sometimes it's hard to be creative enough to make an attractive resume. In that case, you should use a resume template for Perfect Marketing / PR. In a template, everything is included, and you just need to replace the demo information with yours.
Top 18 Resume Examples for Marketing/PR Officer
More samples? See 300 + good resume examples by industry